Here's my rolling list of all the eatery that is present in my mind so far. I will update it periodically as I discover new things. It is by no means exhaustive, these are places I have been in the past, and a few of…
Bay leaf, it's a hidden treasure of Guildford —  too good to miss.
How come Michelin inspectors missed this destination eatery?
I have eaten in many Indian restaurants and this is one of the best I have tried in taste and varieties.
I  booked  3 days in advance. The menu contains a good number of house specialties which are a cut above the normal menu offerings. I tried one of these and it was delicious. The restaurant was clean and the restroom was spotless.
Hygiene rating on the door – 5 star
Trip advisor rating – Certificate of Excellence
 Any award – British Curry award 2015, 2018 shortlisted. 2016 and 2017 finalist best in South East
Online present address found through google
Booking system — must have but I looked online and did booking over telephone  01428 608030.
Greetings/ Service — A person with a mask and full PPE came to me and asked my name and telephone no.
Ambience /Atmosphere – Really good with lots of Nepali sculpture and art.
Food Presentation – Excellent, could be better. Portion size is little big, I love smaller portions but again thank you for offering to pack for home.
Taste – Really good
 Texture – Perfect
Aroma – Nice
Cooking technique and plating technique – Average, could be better.
Atmosphere, excellent bit empty but must be because of the Covid-19 but seems like collection and delivery doing well.
Staff knowledge/ Order taker — Seems to know most of the menu and very suggestive also stopped me to suggest not to order so much.
Attentiveness – Seems like too excited to see a customer after Post COVID, total table allocated for that day were 3.
Average spend – £45 per person, but I spent £90.00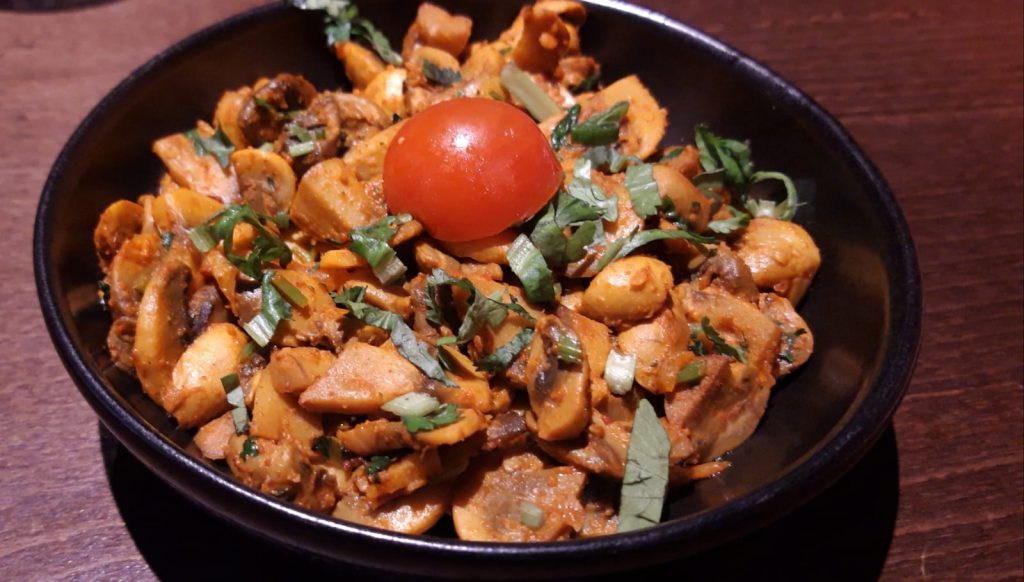 Suggestion – Most of the vegetarian dishes easily can be vegan so I would suggest to work for it, follow the trend and allergens are not denoted in the menu.
General impression of the restaurant  –  I am wondering why Michelin sticker is not there.
Recommended dishes at the restaurant — Momo, Chicken Garlic Chilli Masala, Chilli Chicken, Tarka Daal and Lamb Biryani. Bread selection was fantastic and lovely.
Final thoughts – Wow, best momo in the planet, feels like Kathmandu is here. And Momo Chutney was nicely done and with a very good balance of chilli and roasted sesame. It's far better than what is described in the menu.
Chef Binod Baral – A passionate foodie and restaurant entrepreneur, Chef Binod is a Research and Development chef working for the  Gourmet Entertainment Group, DO & CO.